EFWA Announces Florence E. Royer Endowed Scholarship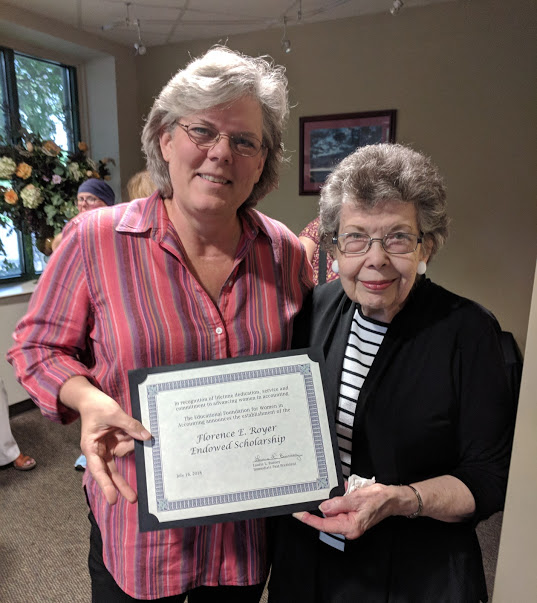 July 18, 2018
On July 16, 2018, the Educational Foundation for Women in Accounting (EFWA) announced the establishment of the Florence E. Royer Endowed Scholarship. Florence Royer was a member of the EFWA Board of Trustees from 1998 until she retired in 2016. Florence worked for over 30 years in public accounting and operated her own bookkeeping service for small business owners for many years. Florence is passionate about non-profit organizations, and she served on several other boards as well during her career.
Florence is especially dedicated to the mission of EFWA, "to support the advancement of women in the accounting profession." She was passionate about helping with not only financial assistance to the women who were awarded EFWA scholarships, but also in mentoring women in the industry during her service. Her impact extends beyond scholarship recipients to her fellow board members, committee members and volunteers she worked with. Thus, the Board of Trustees established this endowed scholarship to honor her and show our commitment to extending Florence's impact on women in accounting well into the future. We were humbled to be able to announce this named scholarship endowment at an AFWA Huntsville Chapter event honoring Florence before she moves to spend the rest of her retirement closer to family.
Anyone wishing to contribute to the Florence E. Royer Endowed Scholarship may do so online via our PayPal account (linked below) or by mailing a check with "Florence Endowment" on the memo line to EFWA, 136 South Keowee Street, Dayton, OH 45402.